This was a comment/question left a few days ago from a reader.  I will say I see this a LOT on some of the forums I visit & thought I would share some of the advice I have shared there in the past with my readers here as well!
I do apologize in advance, the baby has been sick & I have had less then 9 hours of broken sleep the last few days so I am running on steam!  I will try to look over this again in the next few days and fix any oops :).  I just wanted to share while the baby was napping and I actually had the time to type up this novel.  Most of the store links are for the lower priced machines because the higher priced machines price vary by store and you have to get them through a dealer.
Hi… I love all your site.. I been threw some sewing machines but i have gotten to the point where I really want to invest in a good one (that will be with me for 2-3 years at least), my last purchase was a $50 machine (Singer Quick Fix ) but have seen too many bad reviews on it and I am wondering if I should return it or not. I am trying it out for at least two weeks to see if any problems occur but would like your opinion. HELP !!!    ~ Erika H.
Erika I am so sorry that you have been struggling!  This seems to be a common problem, especially when people are looking for more affordable machines. There is a lot of questions & advice out there… and honestly it all depends on your needs!
That being said the #1 piece of advice I have for everyone is DO NOT BUY A NEW SINGER!!!  This applies to their sergers as well and the newer White machines and sergers which are made by the same company I believe. Older Singers are amazing machines, I have a vintage '51 201 in it's original cabinet that I got for $35 at a garage sale in working condition… it is my baby & a work horse!  Even in the 70's-80's and the first few years in the early 90's Singer made solid dependable machines… then they were sold and they are NOT the same and are not made by the same company anymore.  I will say I do know some people who have bought newer Singers and been pretty happy with them but I can say at least 75% of the people I know have not been or didn't realize they weren't until they used a different machine..  I personally wouldn't touch a newer Singer with a 10ft poll! That being said if you are looking at a used machine I highly recommend the vintage ones!  They work on thick fabrics, they turn like a dream, they are pretty affordable to have maintained, and are dependable.  The only down side is that the really old ones like mine often just do straight stitch and they are also generally NOT knit fabric friendly.
I would avoid 'branded' machines, often you pay more to have a machine that is 'project runway' or what not with a few special features & you get less actual 'machine' for your money.
Most people don't use or need all those different stitches!!! I don't have 200 fancy stitches on my machine, honestly I use about 4 of the 27. I wouldn't pay more for a machine just for extra stitches unless you were quilting.
A free arm is a necessity if you are buying a newer machine, it makes sewing things in the round SO much easier, including hemming!   The only way I am willing to go with out is for a really awesome vintage machine… that makes it worth the trouble ;).
Finally I suggest people avoid the dual sewing/embroidery machine, get 2 separate machines if you need both! If you use it a lot you will get annoyed that you can only do one thing at a time… sewing & using embroidering at the same time is nice when you have 2 separate machines! Also if they break or have issues you are out both machines. Most people who only sew a small amount have been okay with them, but if they really get into I have a few friends who told me they wish they didn't get the combo or that ended up buying a 2nd sewing machine only.
I am NOT covering all the brands here, there are a lot out there and for all my international readers a lot of this won't be of help to you but may give you some ideas of what options I am willing to pay more for.
HIGHER END:
I currently have a Bernina Bernette 90e as my modern machine.  Honestly it has been VERY good to me, but I will say I don't think I would have paid as much as my ex did for it being a low end model from Bernina, but Bernina makes really nicer higher end machines… just for me I rather not spend the money on them.  Now that I have many machines & a lot more experience under my belt I am saving up to invest in a Pfaff.  I would really like the Pfaff Expression 2.0 or 3.0.
They are NOT cheap machines (even on sale they are in the $1000-$1500 range most of the time) and have to be purchased from a dealer but they are quality machines that will last for a very long time.   They have also recently come out with a new line called 'Ambition' that offers many of the same features at a slightly lower price (in the $1000-$1500 full price, yet to see what types of sales they will have).  Though I love my Bernina for me I prefer to pay for the Pfaff.  Husqvarna Viking also makes good quality machines that are a little more dolled up then the Pfaff's and in the same price range.  Personal I prefer the slightly more mechanical/utilitarian look of the Pfaff's with the slightly better quality I have seen in the machines I have compared.  If money isn't an issue and you know you will use it I would buy one of these types of machines.
I will admit these are NOT cheap machines and honestly until a few years ago I could never fathom paying more then $500 for a new sewing machine.  That being said people will often trade in their gently used models when they buy new… that means if you ask the dealer they will often have great used models that they service before reselling at great prices.  I got my serger that had been owned for only a few months for $1000 below the MSRP.
MID TO HIGH PRICED MACHINES:
I have to say Babylock & Janome do make decent quality machines but I personally wouldn't pay the price for most of them!  I think compared to the other options out there they aren't quite as solid as I would like & rather noisy considering their price range… you can get comparable machines for less or get nicer ones for just a little more!  I don't think you NEED a higher end machine to make quality stuff, especially if you don't have the budget left to buy the actual supplies to craft with!  That being said if you want the name you can find great deals used by shopping around.
I have heard great things about JUKI machines, but I personally don't have an experience with them & have been happy with the options above & below most of them.
MID TO LOW PRICED MACHINES:
This is what I suggest people go for if they know they like to sew & will use the machine but don't have the money or need to invest in a nicer one.  You can often find many of these that are a reasonable price with a decent amount of features!  Kenmore makes still makes great machines and I highly recommend them new & old.  You can often find them on sale at Sears for closer to the Brother/Singer price range.  Brother also makes decent machines that are comparable in price to Singer but better quality.  I will say the newer Brothers aren't going to last you forever BUT they will often last long enough to get well worth your moneys worth out of the machine and when they do finally die you are normally ready to upgrade anyway.
I recommend the nicest NON electronic controls (digital display on the front) you can get with these types of machines. The ones with the digital displays really aren't that much easier to use or fancier until you get to the really $$$ models & you pay more to get them serviced/fixed.
For low-mid priced machines that can be easily found in stores & online these are the ones I recommend in the following order.  Please note some of them are currently sold out!
This has 4.5 stars after 80 reviews & was only $199 last time it was in stock.

This has 4 stars after 8 reviews & is only $112.79 with free Amazon Prime shipping right now.  If you don't have prime I think it may have free super saver shipping?  It's a little more compact then the other 2 I placed in the top 3 which can be better or worst depending on your sewing needs.
This has 4.5 stars after 55 reviews & was only $149 last time it was in stock.  It is missing some of the features from the 1st machine that I think are worth the extra $50 if you have it.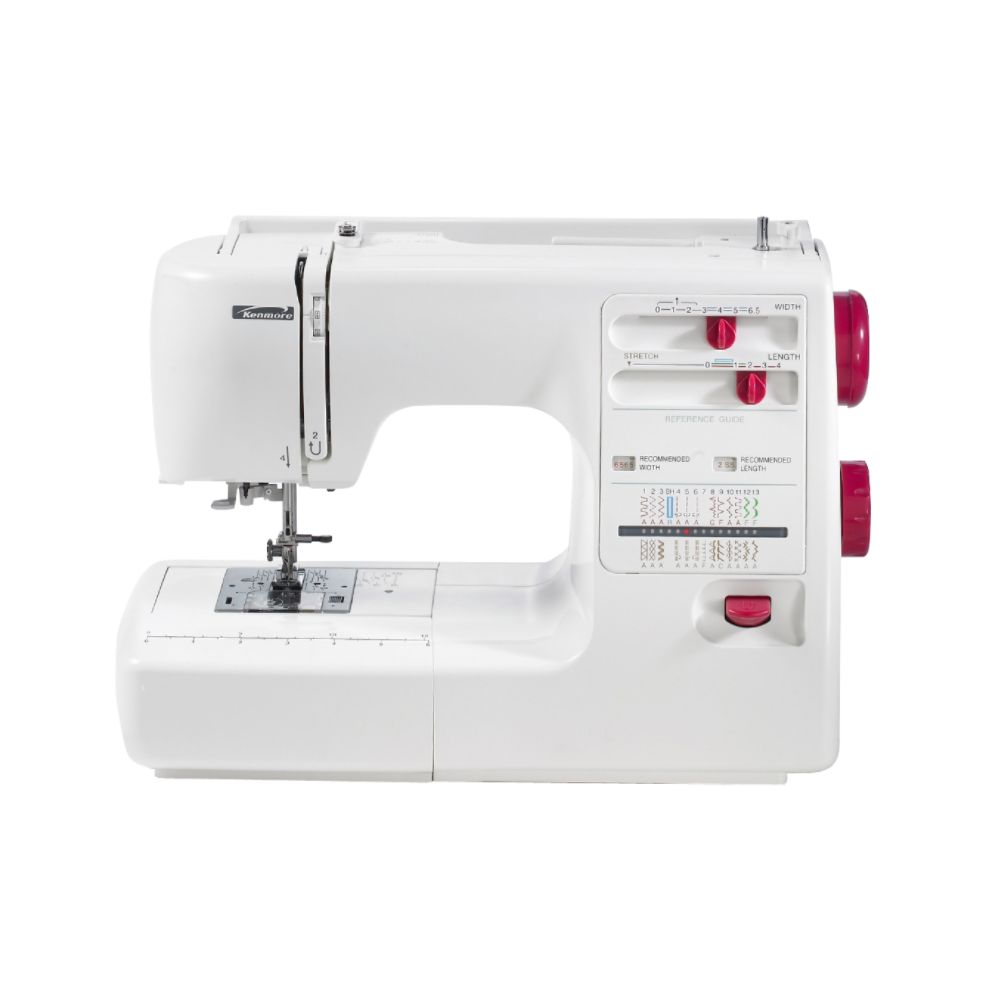 This has 4.5 stars after 804 reviews & is only $152.97 on Amazon with free shipping. It is a slightly nicer machine then the other Brother, but I don't think it's worth $40 more for the electronic display and 25 extra stitches.
BUDGET MACHINES & KIDS MACHINES:
I have to say I but these in the same category.  Why you ask?  Well those toys they sell for kids are just that & not worth the money!  When my twins were still young enough to want one just for a toy I ordered beautiful handmade ones off Etsy.  Now that they are going to be 5 in a few months I am getting ready to get them their first real machines!  If you are looking for something for occasional use, something smaller or something to just get cheap now to learn I recommend these to models.  I have used and owned both personally… I do prefer the Kenmore, but both are perfect for these needs!
This has 5 stars after 10 reviews & was only $99 last time it was in stock and has gone on sale in the past for $50-$60.  I know multiple people (adults as well as kids) who own this machine and highly recommend it… this is what we will be purchasing for the twins!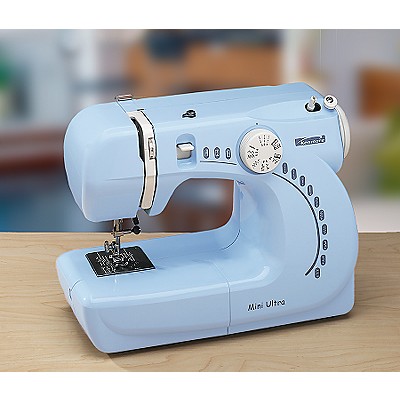 This has 4 stars after 188 reviews &  is only $79.99 with free shipping. This is a very basic machine but if you want something simple & affordable it's a great place to start!  If you are new to sewing it can be less frustrating then getting a used machine that is unserviced & often cheaper then buying and then paying to service a used machine.  These do NOT last forever, most people that I know have had them 2-6 years.  Normally the shorter 2 year ones was because they simply used them so much they were ready to upgrade anyway.  If you just want to sew a few times a year or want if for a child it is another great option as well!
SERGERS:
This could be a whole other blog post honestly but I just want to touch on it for now.  If you are new to serger I recommend getting a basic starter machine or mid range machine if money isn't an issue.  Just again I recommend avoiding Singers & Whites.  For mid grade sergers I really like Janome… I have a 1110DX and it has been very good to me!!!!  These change often you will need to go to dealers and then read reviews online at home before buying. If you have used and killed sergers in the past & ready to upgrade I recommend looking into Viking & Pfaff.  I have a Pfaff Creative which I LOVE, but it was an investment! That being said it is easy to thread, easy to use and just an overall wonderful machine!  I do have friends who own the Babylock 'self threading' machines… honestly they are loud, over priced and I can thread mine just as fast or faster.  If you have bad eye site or arthritis and the money to spend I would consider them, but otherwise I once again just don't think they are worth the money.
Now for a great affordable serger these are the 2 I recommend!  The Kenmore looks almost identical inside to my Janome 1110DX, just cheaper with a few less options.  It often goes on sale at Sears for around $200 and right now from Kenmore it is only $179.88!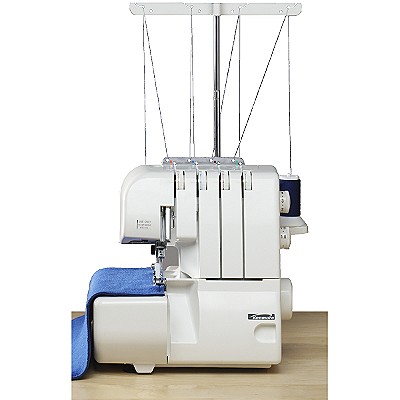 Another option is the Brother 1034D.  Again like the cheaper Brother sewing machines it is not going to last forever… most people seem to get 2-6 years out of them depending on how much they use them but it is a GREAT machine to start with.  It has 4.5 stars out of 370 reviews and is only $198.54 with free shipping.
MAKING A PURCHASE:
What ever you do I recommend doing some research!  When you see something you like look for reviews on places like Amazon and other store websites, but I also HIGHLY recommend looking up reviews on http://sewing.patternreview.com/SewingMachine/Reviews.  The great thing about that site is it is by people who own machines generally and they have to belong to the site, not friends or family who bought it as a gift & don't know a lot of the details.  But it also has reviews for all types of machines including older machines that are no longer sold new AND people will often post the price they paid which is helpful with some of the dealer brands that don't allow them to post the price in print.  It lets you know if you are really getting a good deal on those dealer machines because they are often never full price.
For anyone looking to get a machine with some of those holiday gift cards, exchange a machine they received or simply looking to upgrade to something new I hope this is of some help!  Again this is just my opinion from my experience with all the machines I have owned & used.  No matter if you have a cheap or pricey, no name or name brand machine some will be great & others will NOT.  This is just a general idea over all.
HAPPY NEW YEAR!  Time for this mama to take a nap ;).